"RATIONAL DESIGN OF ANTIBODY REPERTOIRE PROBES USING PEPTIDE ARRAYS"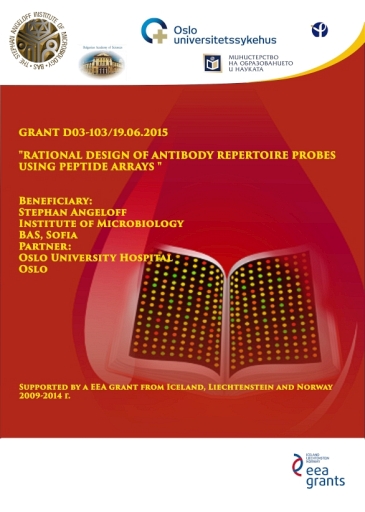 BENEFICIARY:
STEPHAN ANGELOFF  INSTITUTE OF MICROBIOLOGY BAS, SOFIA BULGARIA
PARTNER:
OSLO UNIVERSITY HOSPITAL NORWAY
SUPPORTED BY A EEA GRANT FROM ISLAND, LIECHTENSTEIN AND NORWAY  2009-2914
The Laboratory of Experimental Immunotherapy at the Stephan Angeloff Institute of Microbiology, BAS  
 
has a grant for interinstitutional collaboration from the programme BG09 of the financial mechanism of the European Economic Area (EEA). The project includes research activities and exchange of visits with the team of professor Evind Hovig from the Tumor Immunology Laboratory at the Olso University Hospital. An international conference was held in Sofia with the participation of researchers from Switzerland, Norway, USA, France and Russia as part of the project.
The main objective of this project is to develop an assay on the basis of microarrays for the simultaneous probing of a large part of the antbodies present in the blood. Recent studies at the Arizona University indicate that a similar global view of the antobody repertoire reactivities has a surprising potential to pack lots of information, useful for simultaneous diagnostics not only of different diseases but also of different forms and stages especially in oncology. This is possble beause the immune system functions also as a natural biosensor for the changes in the molecular landscape of the organism. The information derived from the  global patterns of antibody binding specificities is different from the one provided  by individual highly specific antibodies. Unlike the present approach employing sets of random peptide sequences, this project aims at the development of rationally designed/selected peptide structures (mimotopes) which are preferentially recognized by the relevant human antibody subsets. With the help of such peptide sequences a small but highly effective library of peptides could be constructed for the analysis of the repertoire dynamics. This database will serve as a source of information also for future diagnostic microarrays should specialized libraries prove more practical. Another difference from the present approach is the possibility to correlate the structure and the biological properies of the selected mimotopes with the antobody reactivities of diagnostic value. An analysis of this type would be a prerequisite for  development of the antibody repertoire paradigm in a system aspect or, as it is icreasingly referred to – the "igome"
Our laboratory already has a project of collaboration with The Neurosurgery Clinic at the St. Ivan Rilsky University Hospital in Sofia testing the application of a similar peptide microarray fo the diagnosis of brain tumors.
Project duration:
01. February
2015г. – 30. September 2016 г.
Contract date:
19.06.2015.
Project ID #:
Д03-103
Date of funding:
20.08.2015г.
Total value:
€ 118 500.00
ЕЕА funding:
€ 106 650.00
  More about the International Conference held